VENICE- Tuesday morning was going to be one like none other on the Venice Boardwalk. The community was bracing for a promise made by Los Angeles County Sheriff Alex Villanueva. The sun was shining —a change from the day prior when June gloom was holding firm. At 10:30 a.m., individuals paused as a procession of Los Angeles Sheriff's Department vehicles made their way onto Venice's ground zero.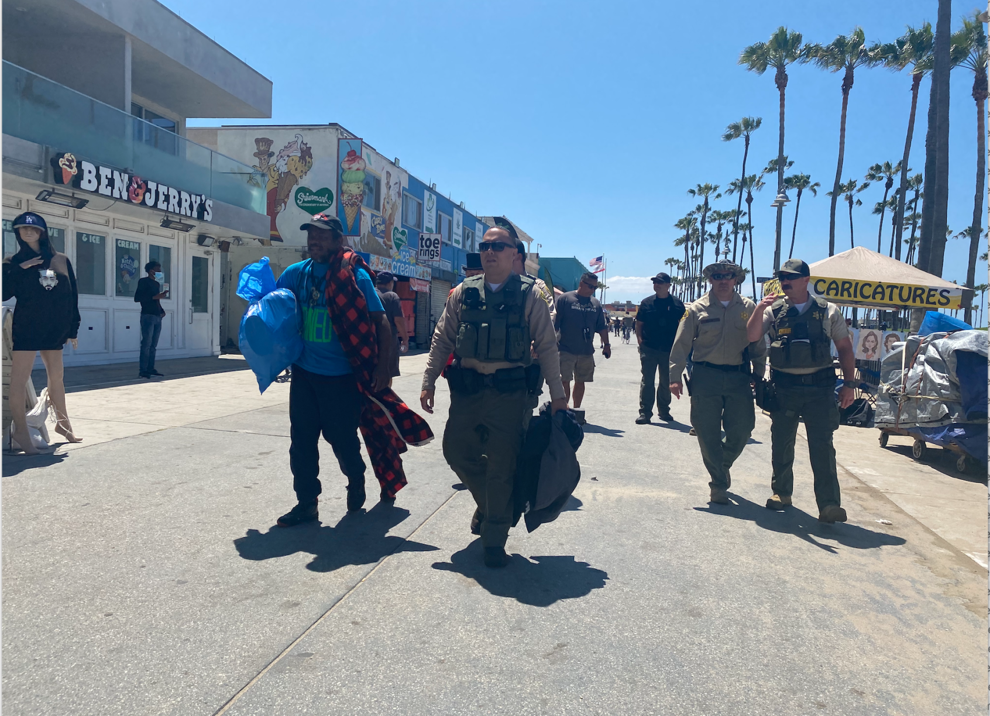 Villanueva made the announcement Monday that his Homeless Outreach Services Team (HOST) would be assessing Venice to "triage the homeless crisis and develop an action plan to compassionately offer services while employing common sense in the regulation of public space within Los Angeles County."
Venice falls under the jurisdiction of the LAPD, and typically the sheriff's department honors those boundaries. But on Tuesday, that changed. "Historically, we always refer to local law enforcement, but in civil unrest--those are the rare occasion where we can step in," said Villanueva.
Before the outreach team began their work, Michael, a person experiencing homelessness, laid on the parking lot ground and started talking about dead bodies on Lincoln Boulevard.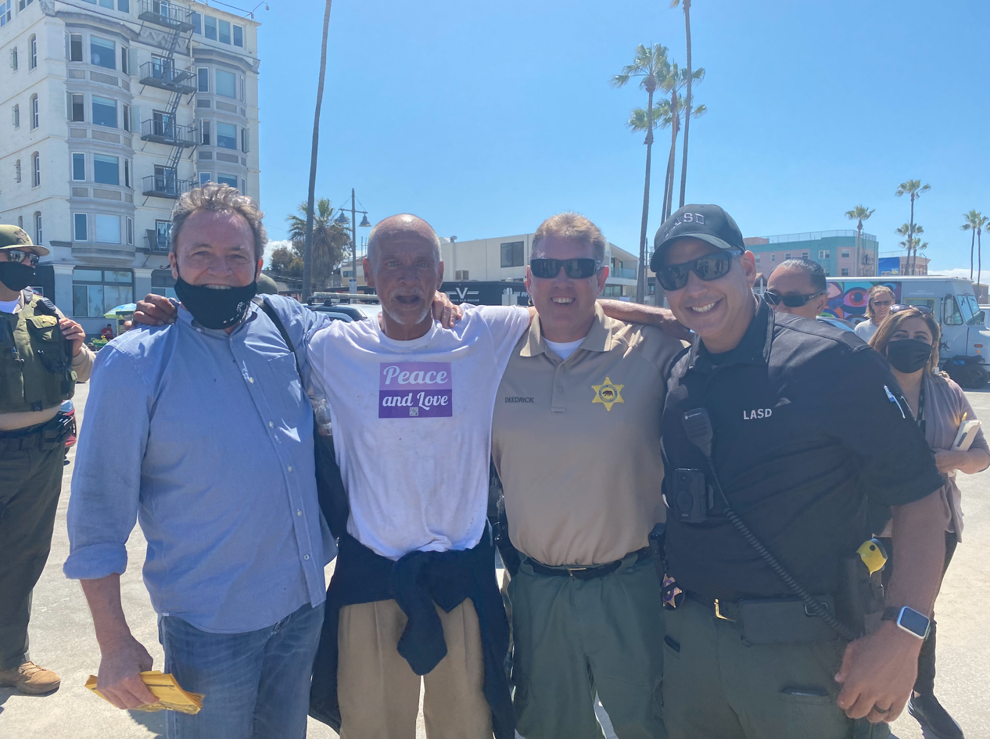 Standing next to Michael was Lt. Geoffrey Deedrick, the first in command overseeing the outreach program. Deedrick bent down to offer Michael a hand- explaining the parking lot was not place to lay down. As Michael stood up, another deputy asked Michael if he was a veteran. "I'm a Marine," Michael answered. The Deputy told Michael he too was a marine and told Michael his   platoon number. As Marines do, Michael returned with his. At that moment, a visible shift happened in Michael. Michael started shaking the deputies' hands—. Shortly after, Michael was offered and accepted services.
The incident would set the tone for the rest of the day. Deedrick told the team of deputies before heading out: "We're here to get people the help they need. They are all individuals with a story."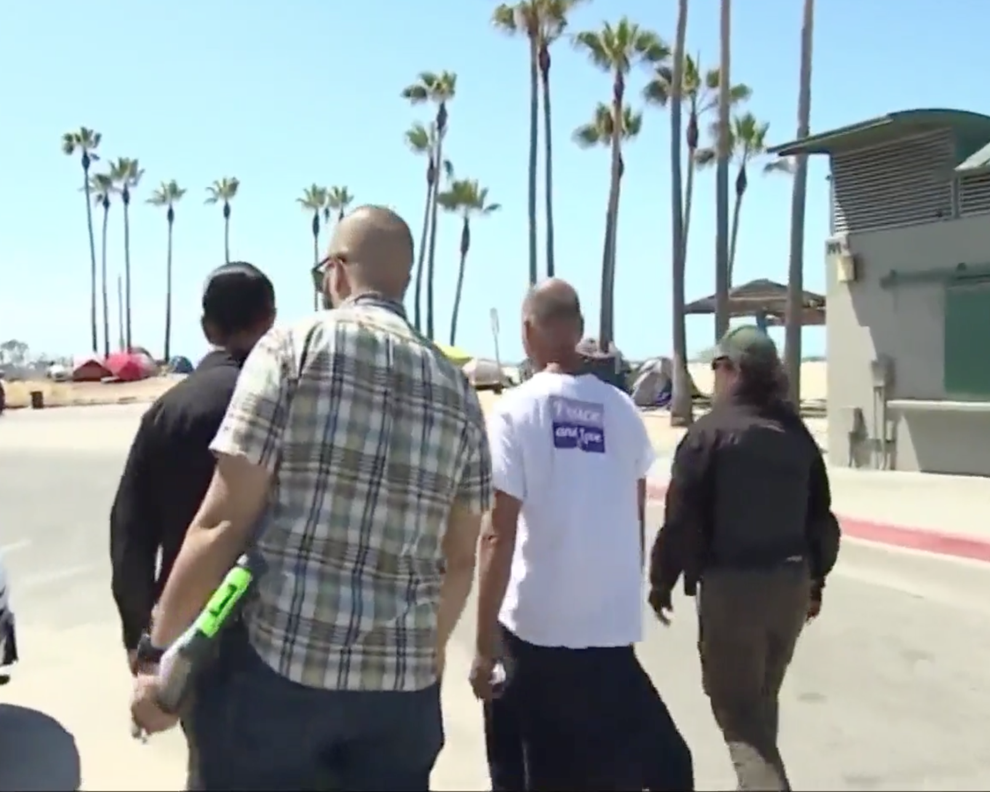 Brian Ulf, the president of SHARE! housing, a collaborative housing organization that uses peer services to help homeless individuals get off the street, was also on hand Tuesday.
Ulf told Deedrick about SHARE!—and offered help if he could be of it. "We'll take all the help we can get," said Deedrick. "This isn't political for us."
Deedrick left the meeting to head over to large white tents set up by City and County agencies on a separate mission. The tents were staffed with workers by Saint Joseph's Center, Council District 11 employees and community volunteers with Friends of Venice Boardwalk.
Deedrick shook the hand of Councilman Bonin staffer Dexter O'Connell and offered him a greeting of peace and hope.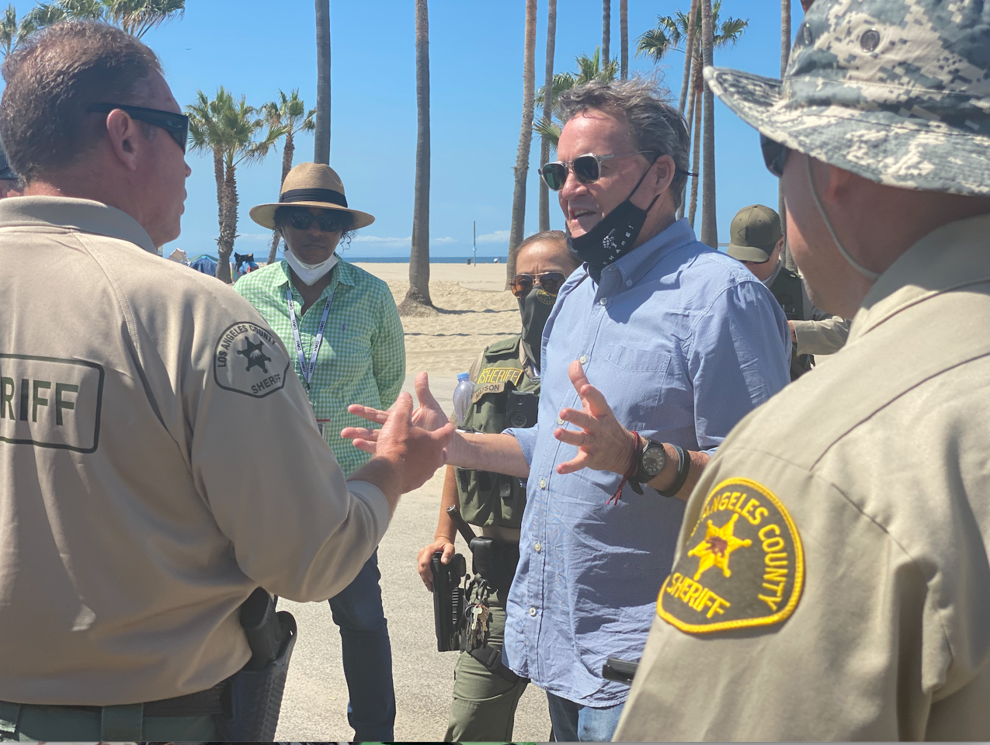 "I know we have deputies on the Boardwalk—but we don't plan to use force," Deedrick said to O'Connell. "What we are doing today is beginning to build a report. You can't come in and have a solution to a problem you don't know enough about," said Deedrick. "Each individual out here is unique. Our job is to connect with them."
Deedrick told O'Connell that he had deputies trained in mental health crisis and crisis management. "We've helped 30-40,000 homeless in the eight years since we have been established. We have never used force—and we don't plan on it here."
Deedrick explained the model they use: "Give me your hand—I'm here to help, not show me your hands [referring to what law enforcement would say when someone is in trouble with the law]."
The day would go on –and one by one, deputies walked down the Boardwalk stopping at tents talking to individuals often getting down on one knee. "This is where we learn a little about the person and connect," one Deputy explained.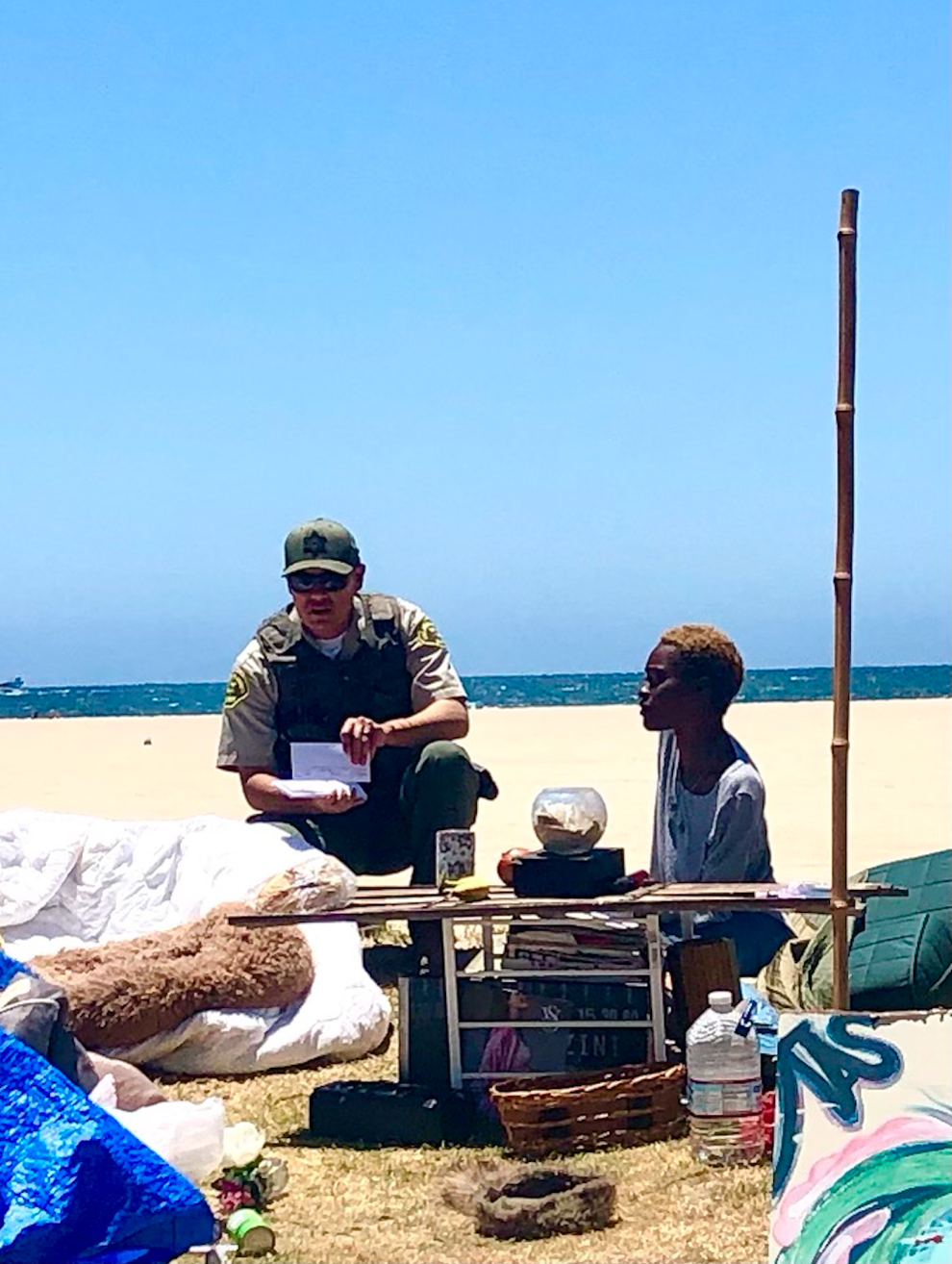 "Getting to their level is important to make a connection," said Ulf, who himself uses his personal experience of living on Skid Row to connect with individuals. "It's important for them to know we understand. So, connecting on this level is everything."
The approach is unlike the one used by other outreach service providers who are often seen walking on the Boardwalk with clip boards and little to no interaction with the homeless. Last October, a person experiencing homelessness, who is now charged in the homicide of 71-year-old Jesus Valdivia, was featured in an I-Team investigation by Joel Grover. The report was an investigation titled "New York's model of basing homeless outreach on data may help LA fix its growing problem." The report called out the Los Angeles Homeless Services Authorities (LAHSA) for its lack of success in positive outcomes.
During the report, Brumley stated: "I have violent anger tendencies." When Brumley was asked about LAHSA's help --Brumley told Grover that he primarily sees them [LAHSA] hand out snacks.
On the Boardwalk, the same approach of connecting would help get Robert Sadowski, a 76-year-old veteran in a wheelchair who has been living at the corner of Ocean Front Walk and Rose Avenue for three years, to agree to receive medical treatment.
Sadowski departure was met by cheers and a lot of emotion from the community. "It's a life changed," said Ulf. "He just needed the right connection, and he got that today. "
Although there have been no hard numbers released to date.  It's estimated that at least 10 people have been housed or are in line to be housed.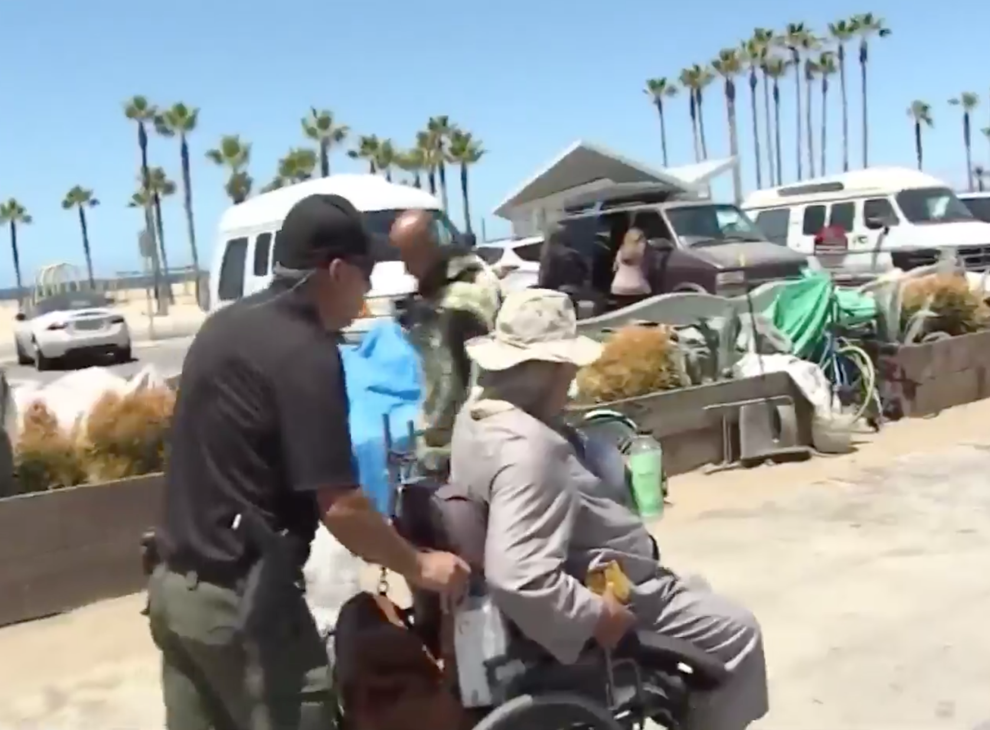 On Wednesday, 14 deputies plus mental health workers were on the boardwalk.  
Deedrick said his team's assessment would take two to three weeks, with deputies planning to spend about three days a week in Venice. "We're here to help. We made a promise to make this better and we are going to keep it."