VENICE- A public hearing for a project to build new apartments and a restaurant on Ocean Front Walk is set to go before LA's Plan and Land Use Management (PLUM) Committee this afternoon. The project is slated at 811 and 815 Ocean Front Walk. In a unanimous vote, the Los Angeles City Planning Commission voted to approve a small mixed-use building at the location last December.  
The proposed development calls for demolishing three buildings that have sat empty for decades and to build new three-story edifices containing nine apartments, a ground-floor restaurant space and a semi-subterranean parking garage for 30 vehicles.
A group called Citizens Preserving Venice (CPV) with Robin Rudisill, a candidate for Venice Neighborhood Council Treasurer and who also holds a seat with the San Pedro Neighborhood Council [because of her stakeholder status in that area ] filed an appeal to the project along with CPV. Rudisill is also a treasurer for CPV.
Rudisill and CPV are appealing the project citing a list of what they say are violations including the Mello Act Ordinance ["Project"] requirements. The Mello Act seeks to preserve and expand the number of affordable dwelling units in the Coastal Zone areas of California by essentially making sure if an affordable unit is a part of the property--it must stay or be replaced.
The owners of the lot have been trying to develop the land since 2007, adopting and adapting different plans to meet City and Coastal requirements. 
In 2014, a plan that received a nod from the City was ready to move forward until Rudisill and CPV appealed the project, ultimately delaying the project and forcing the landowner to go back to the drawing board. The [new] project was approved [again] and then appealed again by CPV and Rudisill.
42 Appeals. 4 out of 5 Denied in Full or In Part
From 2014 -2020 Rudisill has appealed up to 42 projects on the westside. An estimated cost to taxpayers for each appeal is $150,000, meaning Rudisill's appeals have cost taxpayers approximately $6 million. Just as significant as the price tag is that 4 out of 5 appeals filed by Rudisill have either been denied in full or in part.
Although taxpayers are forced to pick up the tab for the appeals, a large financial burden is also placed on the property owner. Costs like property taxes, attorney fees and architecture fees also add up. In some instances, like 811 Ocean Front Walk, the appeals are tied up for years forcing the property owner to pay exorbitant amounts for a property that doesn't generate revenue. 
One of the most notable appeals to date is one that went to the California Supreme Court after a project was 90 percent complete. In October 2013, the City issued a coastal development permit to create four residential parcels; and construction of four approximately 2,500 sq. ft. three-story buildings at the 700 blocks of Brooks Ave. 
The City of Los Angeles approved a coastal development permit in 2013 but did not immediately report its final action to the Coastal Commission as required by the Coastal Act and the Commission's regulations. Three Years Later, Rudisill filed an appeal with the Commission.
Rudisill said the City's noticing and public hearing procedures were not consistent with the City's municipal code. Rudisill also said the scale and scope of the project were out of character with the rest of the neighborhood they were building in. After years of back and forth hearings and litigation, an ultimate finding on the appeal was to allow the project to be built with [some] modification. A recent check of the property showed it was built and sold in 2019.
RSO Short Stay Hotel
Also at question is Rudisill's Rent Stabilized duplex that she has listed as for short stay rental, taking two units off the market.  
In 2014 the LA Department of Building and Safety was notified that Rudisill converted her property on Ocean Front Walk from a Rent Stabilized (RSO) duplex into a short stay hotel. 
A letter requesting an investigation to the Coastal Commission during that time asked for the commission to look into Rudisill's alleged increase in density to her property. The letter says that Rudisill converted her 3rd-floor unit to her duplex without proper permitting. It also stated that Rudisill only provided two spaces for parking when Coastal Development Permit requires three parking spaces.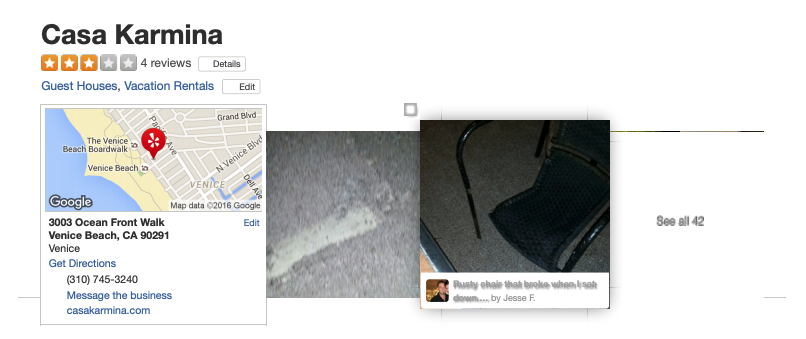 In 2015, -the LADBS was notified that they believed Rudisill's duplex was used as a short-stay hotel. 
In 2018, the City filed three code violations included illegal occupancy, hazardous electrical wiring and hazardous plumbing. 
The non-profit status of CPV, who lists  has also been put on notice by the state. Recently filed documents in 2020 showing annual expenses for the group to be around $130,000. In April, the Department of Justice issued a notice of delinquency for failing to file non profit paperwork with the state since 2018. 
Consequence of Appeals
Along with the monetary costs--research done by Dario Rodman-Alvarez from Pacific Urbanism shows the impact and consequences appeals have on the housing stock and prices in Venice.
"Appeals, or land use cases, are among the variables found to have a statistically significant association with density decreases, which translate to low dwelling unit supply rates, or worse, as in the case of Venice, negative dwelling unit supply rates, increased rents, house prices, and residential displacement," said Rodman-Alvarez. 
 Rodman-Alvarez said that Venice is among the hardest-hit communities in terms of density decrease in the City of Los Angeles, both due to changes in land use classifications or downzoning and in several appeals filed mainly by a small number of individuals or associations.
" While some appeals may be filed in the spirit of public involvement, the process can also be weaponized: Four out of five appeals filed by a small number of individuals or associations in Venice are either denied in full or in part, which speaks to a potential lack of merit in a majority of these appeals."
Rodman-Alvarez said that some costs of appeals, whether denied or not have a broad impacts: "Suppressed housing supply rates, increased rent and house prices, displacement, and increases in homelessness rates."
"Exclusionary land-use policies and processes contribute to economic segregation, raise environmental and social justice issues, and, whether intended or not, effect results similar to previous policies of racial redlining."
Tuesday's hearing is 2:00. The audio for the meeting can be found at https://clerk.lacity.org/calendar
The Venice Current reached out to Rudisill for this story and did not heard back in time for publication.
Editor's Note: An earlier version of this report showed that the Coastal Commission wrote a  letter about the investigation into Rudisill's alleged changes to her duplex. The story was updated to reflect that the letter was written to coastal and that an investigation did not take place.