VENICE- A 14-year-old-who was reported missing on Tuesday has been located. A tweet from the Los Angeles Police Department Pacific Division said Quinn Clifford was located this morning. The tweet read that an earlier report by the Venice Current alerted police of Clifford's disappearance.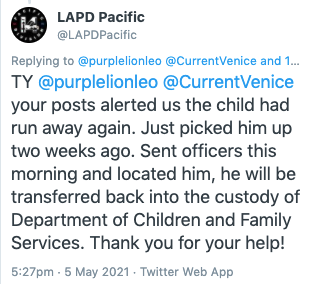 According to police, this isn't the first time Clifford has run away. Police say they were able to locate Clifford and transfer him back in to custody of the Department of Children and Family Services. 
Tuesday, May 4, 8:35 p.m. A missing teenage boy could in Venice, according to the National Center for Missing and Exploited Children.
MISSING CHILD ALERT 🚨 Los Angeles, CA

14-year-old Quinn Clifford may travel to Venice, California. When the child was last seen their hair was dyed blue. The child may go by the alias name Taylor LeBous. @LAPDHQ pic.twitter.com/rotBgebUZS

— NCMEC (@MissingKids) May 4, 2021
14-year-old Quinn Clifford disappeared from Los Angeles on April 16. When he was last seen his hair was dyed blue. Clifford may go by the alias name Taylor LeBous. He is 5 feet 4 inches tall and weighs 120 pounds. He has blond hair (before dyed blue) and hazel eyes.
If you have any infomration, call 1-800-THE-LOST.