VENICE- "It was yelping so loud--the sound isn't the usual dog sound--it was suffering. It was suffering."
A woman who lives behind the home that burned Wednesday morning says they are devastated after waking up to a fire that destroyed a home and took the life of the family dog.
"My neighbor picked up a scooter and started ramming into the walls. He was doing all he could to break in and save the woman who lives there and her dog," said Cecily--a neighbor who wishes to have her last name withheld for safety reasons.
"The dog kept yelping --and then it stopped."
It took 26 firefighters to put out the fire at 31 E Clubhouse Avenue, across from the Westminster Dog Park.
The fire started around 3:00 a.m. Wednesday, April 21, according to the Los Angeles Fire Department.
The owner of the home-- a doctor--was working at the time of the fire. Her dog, a husky mix, was home and did not survive the fire.
In an email sent to city officials by neighbor John Betz, he said: "The entire neighborhood is devastated. This tragedy could have been way worse than it is."
"Had it been a windy night, likely, the fire would not have been contained to this one structure. Plain and simple - an entire neighborhood was threatened, both life and property. This tragedy is the direct responsibility of all of you city officials [on this email thread], especially you [Councilmember] Mike Bonin and you Dexter O'Connel and you [Mayor] Eric Garcetti."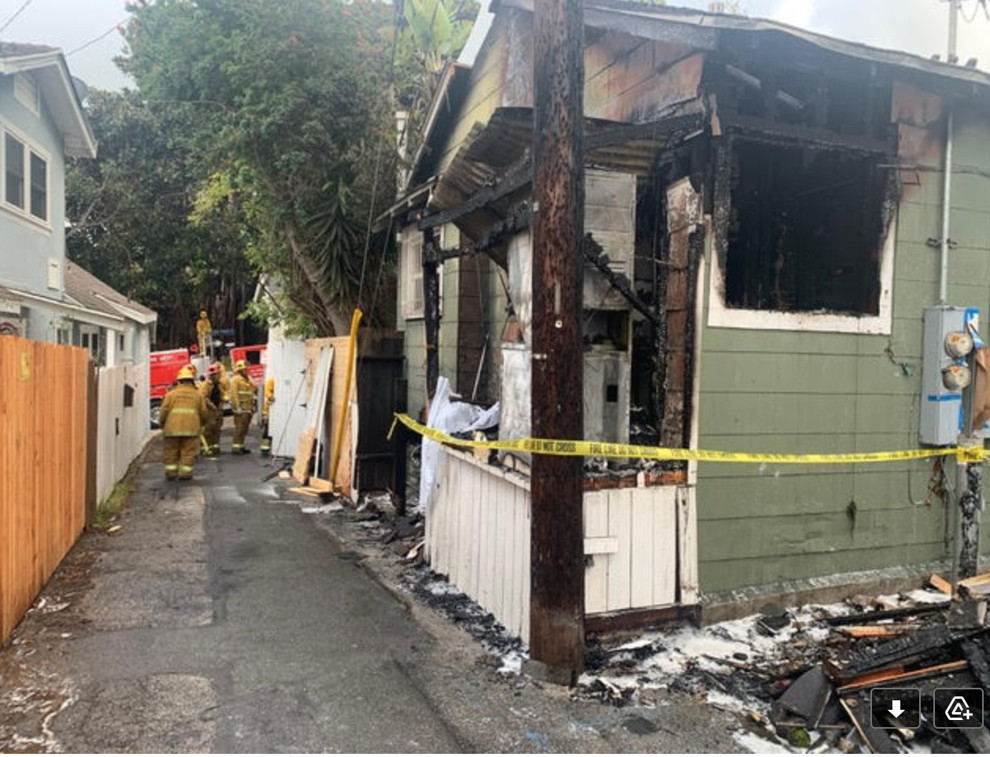 Betz said he spoke to a fire investigator on the scene who told him that the [LAFD] initial belief is someone in the alley threw a burning object over the fence.
Betz said neighbors have been complaining about the escalating encampments in Westminster Park and along Main Street adjacent to the park for months [now].
"The people in these encampments have demonstrated hostile behavior towards we residents. They do drugs in the alleys behind our houses, they are running illegal activities out of their tents and their RV's, especially this one parked adjacent to the pre-school fence and right across the street from the fire.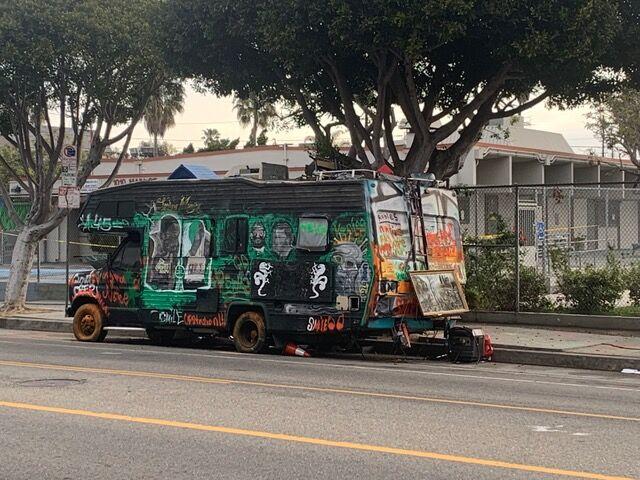 Other neighbors immediately surrounding the fire echo Betz and Cecily.
Examples of letters written to Bonin's office demonstrate a collective fear and frustration:
To Whom it May Concern,
I live across from the Westminster dog park and Westminster Elementary school. Over the past month, there has been a growing encampment monopolizing the sidewalk at the edge of the Westminster park and within 20 feet of the elementary school across the street. There is no public bathroom in the vicinity, no effort by the city to maintain the area sanitary or to provide any kind of needed service (mental health, addiction, or healthcare assistance; food, clothes, clean water... ) to the dwellers.
A group of them just took our garbage bins from the alley, placed them across the street from their van, and are using them to throw in their excrements and other garbage. The smell is foul, and it is overflowing, but regular trash collection doesn't pick them up.
One tent has a sign that advises "trespassers" to stay away: "registered gun owner inside." People are sitting in lounge chairs on the lawn of the dog park, jug of vodka in hand, smoking weed and letting their dogs roam free. We can hear screams through the night, our side alley has become a bathroom, people are harassed as they pass the encampment. I was followed home from parking my car one night.
In the past few months, paramedics and police have to be called assisting with mental breakdowns, breaking up fights, and in one case reviving someone on the sidewalk. This morning, we woke up at 6 a.m. to screaming and found that our pots and plants and all of our neighbors' porches along Clubhouse Ave had been vandalized. What is going to happen next?
Dear City Officials,
We are now in the first week of school for Westminster Elementary located in Venice off of Abbott Kinney.
I have emailed several times, as did many of the residents of this neighborhood, that there is a growing encampment on the Main Street side of the school. I am disheartened by the fact that no one has come to check up on this encampment, the safety and health of its residents, or to ensure that the children of this community have a safe route to school.
I have attached videos of what we are dealing with here. There are children playing not even 20 feet away from an encampment of mentally unstable people, that are defecating, vomiting, doing drugs, passing out drunk and half naked on the street and lacking all services in order to maintain safe living conditions (please see photos/videos attached).
The message that you have sent by turning a blind eye to these violations is that the children and residents of this area of Venice, as well as the residents of the homeless encampment, should bear the burden of this on their own. The people of this community matter just as much as the children and residents of other communities in which this is clearly not allowed to happen.
The current pandemic is not an excuse for city leaders and authorities to allow critical health violations. You have the power to take certain measures to address these issues.
This is appalling, please do something about this before anyone is further harmed by this explosive situation.
Betz said the only visible action he observed is LAHSA handing out power bars and bottled water to the street campers. "Wonderful - feeding in place goes a long way towards incentivising these folk to move. In the meantime, the homeless have set fires in our alleys (neighbors have discovered several active fires burning in the alley near their homes on prior occasions), stolen trash cans, damaged property - the list goes on and on. We have been crying out for help and received none."
"This morning, as I watched women weeping in our alley. You leave us residents no choice to protect our person, our families, our property," said Betz. 
"You don't realize the toll it takes on you, " describes Cecily of the constant struggles with the encampments. "It impacts your work -- you are on edge, you can't sleep at night. "We feel we have been left for the wolves. Everyone is scared in our community. What's next."
No further details of the fire have been provided by LAFD. 
Go Fund Me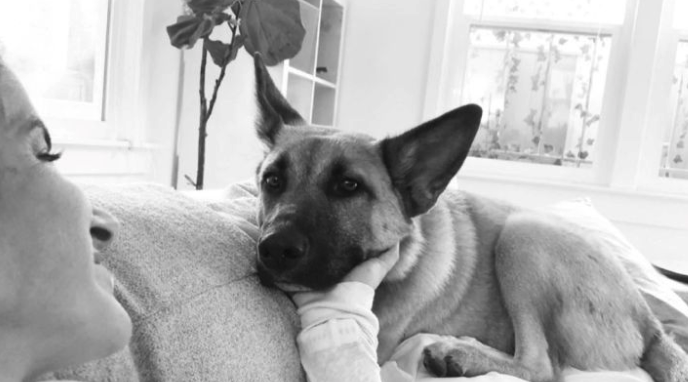 A Go Fund Me Page has been set up for the homeowner by Midnight Runners LA. You can learn more by clicking here.