by Angela McGregor
Mike Bonin's opening remarks at Monday night's Virtual Town Hall highlighted the pandemic and its consequences.  After introducing the Town Hall's moderator — journalist Gary Walker, of the Argonaut — he stated, "We are living in very strange and turbulent times, a raging pandemic.  Largely due to that pandemic, we are suffering a recession with an unprecedented fiscal crisis.  We are now anticipating a $600 million deficit and there is much pain to come".
The 2019-2020 City Budget totaled $10.71 billion.  According to Bonin, roughly 95% of that budget funds salaries, and the city's approach "since the beginning of the fiscal crisis" was not to furlough or layoff employees.  To that end, he later stated he has taken a 10% pay cut.  Over 400 of Mr. Bonin's CD11 constituents attended the meeting.
In attendance
A large number of West Los Angeles law enforcement was on hand, including Captain Steve Embrich of Pacific Division. In his opening remarks, LAPD Police Chief Michael Moore also cited the current fiscal crisis and stated that he had been asked by the City Council to reduce staffing by 350 sworn personnel, which will be accomplished by attrition.  250 additional civilian personnel will not be replaced.  These are staffing levels not seen in more than a decade, and are occurring at a time when violent crime is rising, including 79 violent crimes in Venice — an increase of more than 10% over last year, which he in part blamed on the LAPD's inability to enforce LAMC 56.11, which would mandate that encampments be dismantled during business hours.  Allowing them to become larger has made it "more complex" to maintain safe neighborhoods; gangs are using them for cover, and certain undercover operations are "off the table".  He then mentioned bike theft and the resulting chop shops, and implored the public to register their bikes at https://bikeindex.org.  LAPD is also looking for civilian volunteers to work in many capacities, including front desk, unarmed citizen's patrol and to pass out flyers.   To sign up, contact Pacific Division.
As reported in the Current, Bonin's decision to conduct a CD11-wide Town Hall instead of a Venice-specific one (as requested by close to 2000 Venetians in a recent petition) generated a fair amount of Venice-specific ire.  Perhaps for this reason, the majority of the dozen or so questions selected to be read from those submitted online prior to the meeting came from Venice.  And of those, the majority dealt with issues stemming from the ever-growing encampments here.
Questions from residents
The first question was what the Councilman's office and the Police Chief planned to do about the ever growing sense of lawlessness in Venice, and the questioner lamented the fact that she no longer feels safe walking outside of her home during the day, let alone at night.  Captain Embrich reiterated what Captain Moore had said regarding 56.11 — that Pacific Division's inability to bring tents down has lead to a big increase in blight and narcotics.
That said, the efforts to clean up encampments near Penmar utilizing "Project Homekey" had been a great success.  Chief Moore chimed in that there was a huge need for civilian mental health workers to get encampment dwellers into urgent care and shelter, and that the real challenge is how to get more people into housing.
With conditions deteriorating unabated, violence among the homeless is now much higher than 5 years ago, and  20 percent of homicide victims today are homeless.  Finally, Mr. Bonin stated that  "the way to make sure we have no tents on sidewalks is to make sure people aren't in tents."  If efforts like the one at Penmar could be ramped up, he said, there would be "no need for 56.11." He went on, "the  city needs to break it's addiction to slow and expensive solutions and focus on the best and smartest way to get people off streets right away," which appeared to indicate that he was frustrated with the City's focus on the slow-to-build new construction of HHH-funded, permanent supportive housing that he has championed in the past.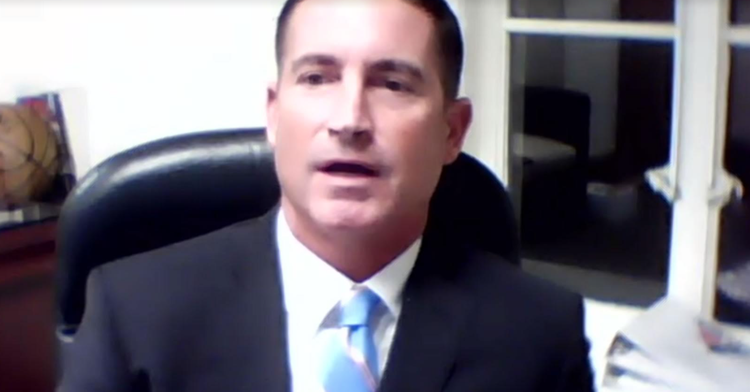 In answers to subsequent questions, Deputy Mayor Gorell said he'd like to see "flexibility" in the enforcement of 56.11 to allow officers to enforce it in high crime areas.
Chief Moore, answering a question asking how budget cuts will impact Venice, stated that the Venice Beach detail will be cut by 50%.  Overall, he agreed that police presence should be reserved for matters involving "actual crime" and cited the need for hundreds of civilian personnel to handle the roughly 25,000 calls to 911  — ranging from domestic disturbance to minor drug offenses — that don't amount to major crime.  Cutbacks in staffing were made on the promise of the City Council "reimagining" law enforcement and providing resources for non-law enforcement personnel to respond to these situations.  Those haven't been forthcoming.   Mr. Bonin agreed, stating the City Council has thus far only approved a pilot program, and needs to make the program permanent.  He pointed out that the recently-passed Measure J would provide additional resources.
What is a "police matter"
To another Venice question on homelessness, Moore elaborated on does and doesn't constituent a "police matter".    Drugs, he stated, are a public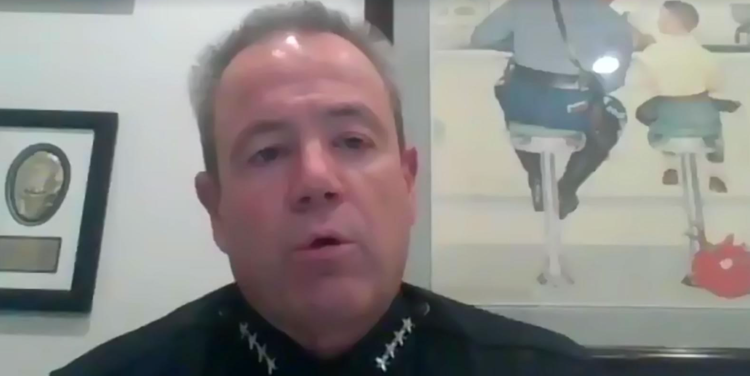 health crisis, like the pandemic —  not a police matter.  It becomes a police matter when  there is no one else to take the call.  Furthermore, police have been asked to do too much for too long for too little.  These Budget cuts will cause dramatic changes in what LAPD can do,  and maybe that will "force the system to change".  Mr. Bonin agreed, stating:  "What happens every time there is a recession is that government always cuts social services more than policing.  We need to break that cycle of disinvesting in actual solutions.  The Chief is right." He also said he was looking into Los Angeles having its own public health department, so that money from mental health and addiction services could then stay in the city (currently, mental health services are run from L.A. County).    Moore mentioned that HOPE units —  50 personnel meant to do outreach and engagement with homeless — had been disbanded (and were frequently accused by homeless advocates as efforts to "criminalize homelessness")  He said Pacific Division was looking to St. Joseph's Center to provide outreach, engagement.
Venice ABH
Toward the end of the evening, Dana from Venice asked why the area around Venice's Bridge Home is so unsafe and squalid compared to other Bridge Housing facilities around the city.  Captain Embrich said he'd looked at statistics and found that, since Pacific Sunset opened in late February, violent crimes have gone up 88% in the security enforcement zone surrounding the facility, and that property crimes in the same area are up 17%.  Pre-Covid, he said, he had a dedicated black and white car to patrol the area, but that has been discontinued as of July 29th.  Once again, he blamed a lot of this crime on LAPD's inability to enforce 56.11, which has led the tent dwellers to accumulate property and become increasingly territorial, to the point of violent turf wars.  In his opinion, since the pandemic the homeless population around ABH has increased "probably 100%", meaning that "everybody is competing for real estate."
Mr. Bonin responded that, because Pacific Sunset opened just a few weeks before pandemic, there was a "perfect storm of circumstances to hobble operations", including limited  capacity and resources to move people into longer term housing diverted to Project Roomkey.  He said "the science we have been getting is to not disburse encampments unless you can offer them an individual room".  He said clean ups in the area to reduce trash have been "stepped up" and that Sanitation is "piloting a different way to do cleanups"  involving a voluntary program to take away what people what to be cleaned up.  He also said that "leading with enforcement" would "only lead to more lawsuits which the City will not win".  As for  the differences between the cleanliness and orderliness around other Bridge Housing facilities, he said he was seeing "both differences and similarities with other facilities", likely due to the fact that   Venice is "more densely populated".  Finally, he said the city needs more motel and  hotel rooms, as well as safe camping, once again placing his emphasis on what he called "a huge amount of inventory, fast".  He said the city has "started conversations" to purchase several hotels and motels, and  also needs safe camping and tiny home villages.
Why the flip flop?
A questioner from Westchester pointed out that, two years ago, Mr. Bonin spoke to an event at the Police Academy where he proposed increasing the police force.  Now he's cutting them.  Why the flip flop?  Bonin responded that, at the time, he wanted to re-prioritize neighborhood policing, based on stats that there were more officers per capita on patrol 50 years ago than today.  His approach since the beginning of fiscal crisis has been not to furlough civilian employees, but he still believes we can maintain neighborhood patrols.  In his closing remarks, he said there was a lot of agreement among the participants, and advised demanding more funds from the State.  The Councilman's office plans a series of Town Halls this Fall and Winter, including one entitled "Reimagining Public Safety".
The evening ended around 8pm, after two hours.