VENICE- Buck Brannaman is probably the most well-known horse whisperer, his gentle manner of taming unruly horses inspiring novels and movies. Cesar Millan applied similar techniques to feisty dogs on television. In Venice, Lance Small is known as the Bicycle Whisperer for his ability to fix bikes of all kinds.
Since 2008, Small has been repairing bikes out of his large cargo truck, which he drives from his nearby residence and parks at 7th and Westminster Avenues, alongside the Oakwood Recreation Center. He has a permit with the city as a sidewalk vendor.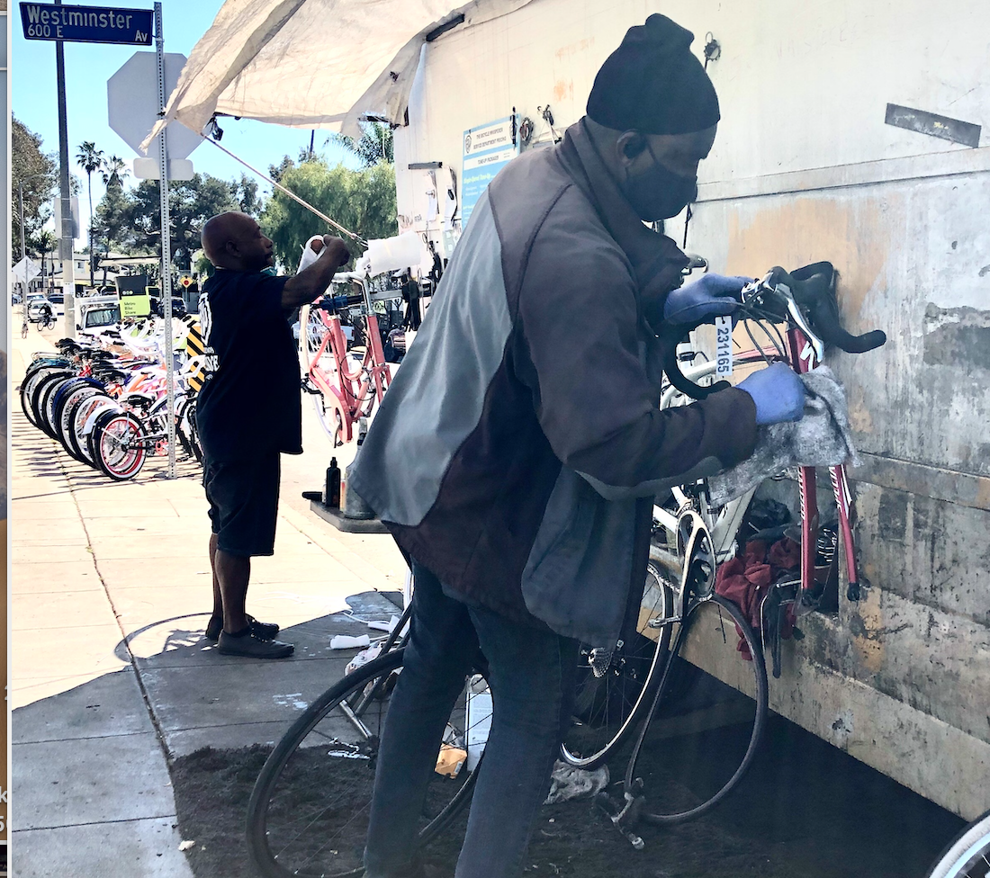 Calling his business a full-service bike shop, Small and his assistant, Danny Smith, do repairs and maintenance, plus sell bikes and accessories.
"We care about what we do, so we do a great job," Small said, pointing to their mostly five-star Yelp rating. "I want to give a nice service so people can enjoy themselves."
On a recent blustery Friday, the Venice native talked about his beloved bike business as he tuned up a bike hanging upside down on pegs attached to the side of the truck. Wearing shorts, a t-shirt and a Russian-style fur hat, the safely masked Small replaced a stripped derailleur, the small mechanism that shifts the chain from one sprocket to another. A droning generator that powers their air pump (free to bikers) nearly drowned out an R & B station playing on the truck's speakers.
Small's work was soon interrupted when a woman walking two dogs stopped by. Small put his tools down, disappeared into the back of the truck and quickly returned, tossing treats to the eager canines. He said dogs and their humans stop by all the time on the busy street.
"I love the animals, I love the bicycles, and I like the people," Small said. "In that order."
Before launching his own business, Small said he worked at many other bike shops in Venice, Santa Monica and Culver City, where he learned from a lot of people and had a lot of training. He admitted he's still learning.
"Nobody knows it all," he said. "After you become a good mechanic, you can figure the rest out. Bicycles are basically the same thing [mechanically] over and over again with a little twist to keep it interesting."
Small said his girlfriend, Adrienne, started calling him the Bicycle Whisperer years ago and designed their logo, a shield with the letters BW, a reversal of the famous Warner Brothers "WB" logo.
A couple pulled up on a tandem bike, saying it's not riding smoothly. Small gave it a quick once-over and diagnosed the problem as a bent rear sprocket. He straightened it out for $20.
The man took the bike for a test spin, satisfied with the repair.
"Oh yeah, you're a sharpshooter," he said to Small. "Thanks a lot."
Small said he does quick on-the-spot repairs like that "all day long," estimating they have 15-20 customers a day.
"We don't need to overcharge," he said of the usual $20 rate for quick fixes. "We're good at what we do, so there's no need to be all… [greedy]."
"Some people [in repair shops] try to hang on to a bike for a long time," Small continued. "The more they hang on to the bike, the more it seems like they can charge you for, when it's not necessary."
Although the Bicycle Whisperer doesn't take appointments, he recommended showing up early in the day for tune-ups or lengthier repairs for same-day service. Their hours are Wednesday noon to 6 p.m. and Thursday through Sunday, 10:30 a.m. to 6 p.m. They accept cash, cards, and Venmo.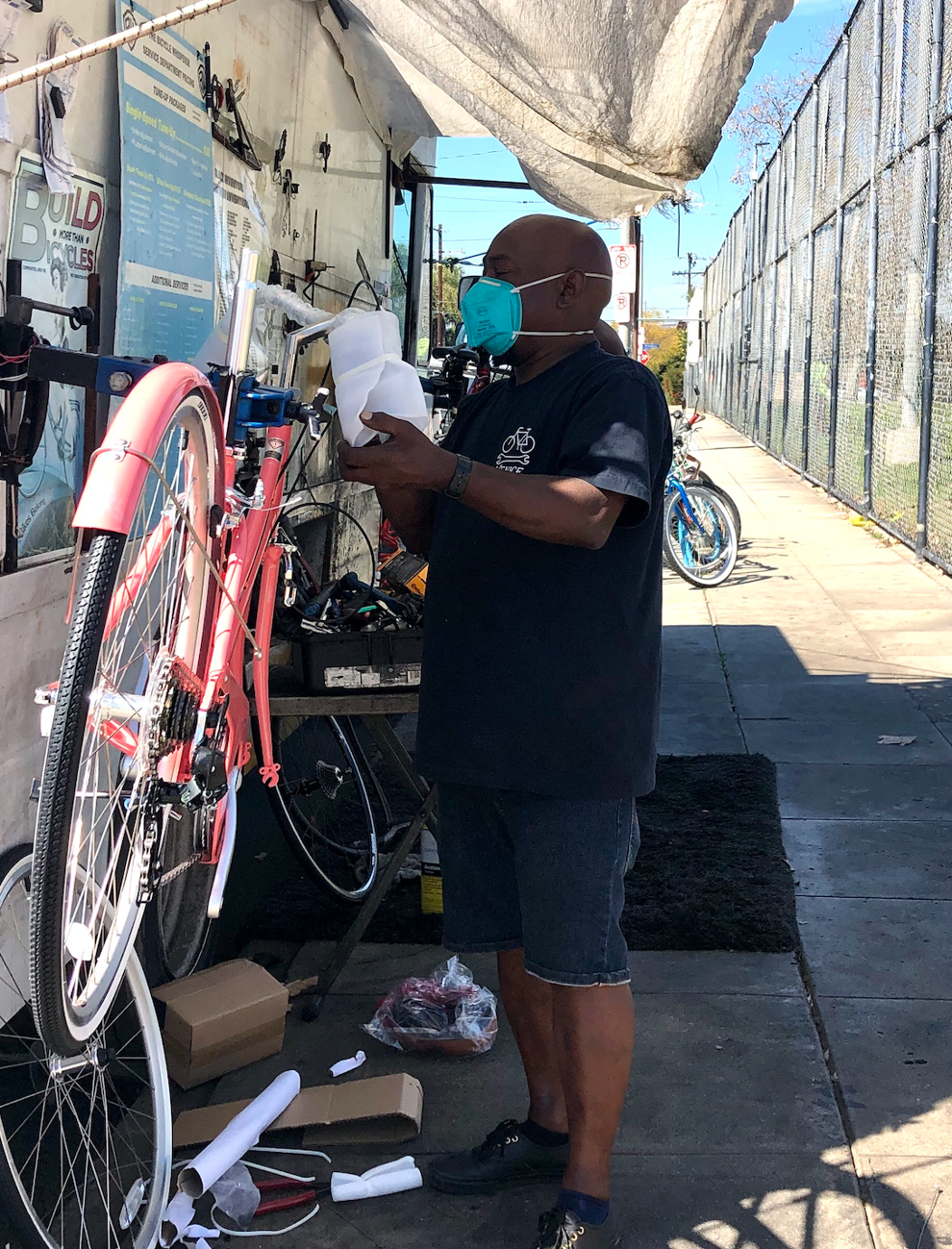 Small, 58, may spend his days tinkering with bikes, but he doesn't ride much these days due to an injury overextending his knee, plus his arthritis.
"It hurts so much it takes all the fun out of it," he said. "So, I do my best to do a great job repairing your bicycle, allowing you to ride as much as you want."
When he did ride, Small said he was a "hill rider." As the then-manager of a Santa Monica bike shop, he said he would close up early on Sundays and hit the trails at Will Rogers Park.
A young man walked up with a ten-speed bike.
Small asked him, "What you got there?"
"I got an old crusty, dusty, rusty bike that I was hoping you could help me bring back to life somehow," the man said.
Small gave the pedals a turn and appraised it.
"We can get it back together for you," he said, recommending replacing the inner tubes, a tune up, and new handlebar tape for $150 or less within a day or two.
The man said he'd think about. "No problem, bro," Small said, handing him one of his business cards before he walked away.
Smith said his business is usually steady, but it got slow before the pandemic hit, then "it skyrocketed and went crazy" as people were stuck at home but craved outdoor activities.
"It was just too much," Small said of the surge in customers. "I was getting snappish and irritable," he said with a laugh, adding he took a month off to settle down before returning to his usual routine.
Soon, Small said, their hours will change with daylight saving time beginning in March. They'll start renting bikes again, too.
The Bicycle Whisperer said he'll keep repairing the bikes of Venice and beyond, whispering to their mechanical maladies "as long as I can, till I can't do it anymore."
"I wouldn't want to do any other job."