VENICE-Here's a sure sign that nature is healing and life is slowly returning to normal: legendary artist Rip Cronk is painting a new mural on the boardwalk.
Cronk said the mural, at the end of Wavecrest Avenue, is replacing one he originally put up in 1990 that had been marred by graffiti.
"This is a completely different version," Cronk said, "but it is a parody of 'Starry Night' by Van Gogh," adding that it would be a diorama in front of which people could photograph themselves.
The 74-year-old artist said his latest creation has already been tagged with graffiti.
"The thing's not even done yet and it's being hit so it does not bode well," Cronk said. "If you want to see the mural, you need to come pretty quickly."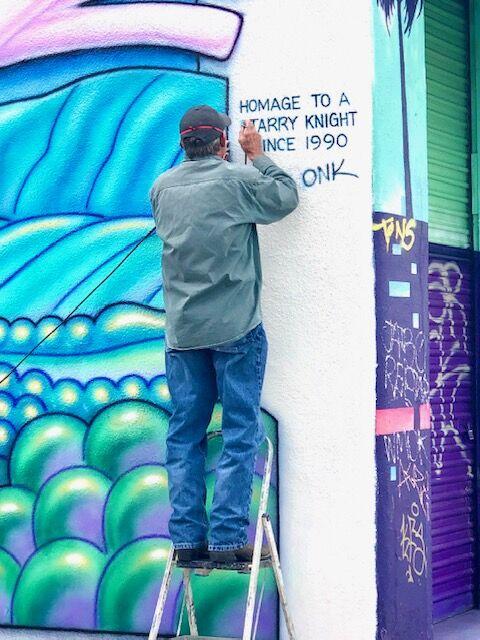 Although Cronk has lived in Venice intermittently since the 1970s, he now lives in Corvallis, Oregon, with his wife, Lindy Foster. He hasn't been to Venice in over a year due to the pandemic, but he worked on watercolors at home and did a mural in Oregon.
"I was pretty much hidden like everybody else," he said.
Cronk's murals have been a staple of Venice Street art for decades. On the other side of the building he's working on now is a self-portrait of Cronk, suspended by ropes and spray-painting the word "Venice" in 1980s style graffiti. Others include a portrait of Jim Morrison, several blocks south on the boardwalk, a five-story portrait of Abbot Kinney on N. Venice Blvd. and "Venice Beach Chorus Line" on Clubhouse Avenue.
Murals aren't meant to be permanent, Cronk said, and should reflect changing times, much like the changes he's seen here through the years.
"Venice is always changing but what kind of remains the same is the heart of Venice," he said, "the people and the neighborhoods and the attitude they have. It allows Venice to be the leading-edge kind of place it is, and that has sort of remained the same."
He recalled how dangerous the boardwalk was at night in the 1970s. "In some ways you can go, 'oh it's so rough,' but in other ways it's much safer."
When he's finished with this roughly two-week project, Cronk said he'll return to Corvallis, but he'll come back to touch up his latest mural when graffiti and the elements require it.
"I don't mind coming down. I have friends here and I'll be glad when the bars are open," he said with a laugh.