Every year George Francisco and the Venice Chamber of Commerce brings the community together for the tradition of the Venice Holiday Sign Lighting. And, although the event won't be in person this year--the show will go on.
Locals can watch the 9th Venice Holiday Sign Lighting from the comfort of their homes.
"Despite COVID19 and all the turmoil that has ensued; it's been incredibly rewarding to see so many people and so many of our businesses support the Sign Lighting.  We always have a massive outpouring of local support that makes the holiday Sign Lighting happen - more than any other local event ever has - but this year, under such dire conditions to see the level of investment and encouragement was incredible.  It's like our community is trying to will their way into a better next year by supporting what they all feel is a joyful, positive way to ring in the holiday season.  Maybe it's muscle memory, and if it is, then Venice is strong that's for sure," said Francisco. 
Venice Holiday Sign Lighting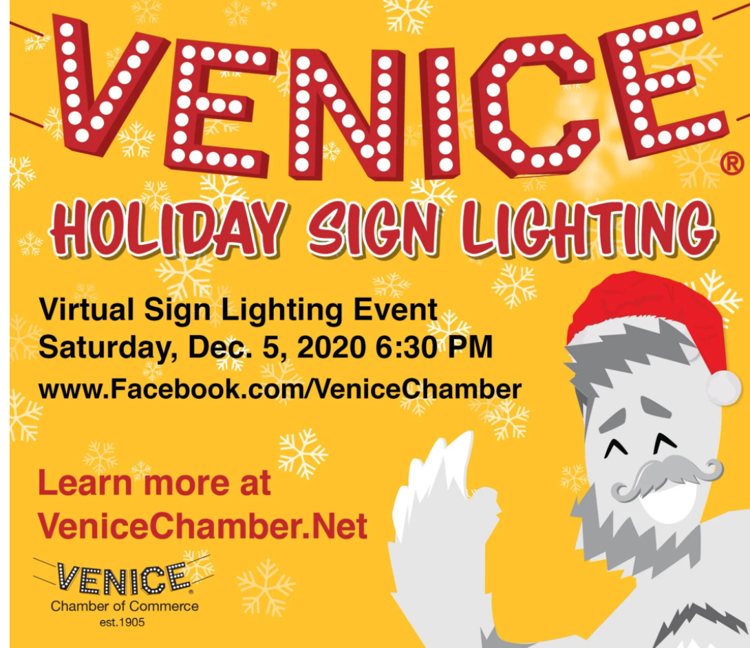 Join the Venice Chamber of Commerce and Venice community on Saturday, December 5, from 6:30 p.m. to 7:30 p.m. on any device.
The one hour program will be hosted by long-time Emcee and Venetian Mike Newhouse, and will feature holiday messages from some of Venice's favorite restaurants and bars.
Event highlights include presentations to the winners of the 2020 My Venice Holiday poster contest and an award honoring the 2020 Venice Local Hero.
The celebration continues at 7:15 p.m. with the traditional countdown to pull the symbolic switch lighting the iconic Venice sign in red and green colored bulbs.
This year, Jon Huertas will be joining as the special guest who will light the Sign and usher in the holiday season.
Jon will join past celebrity residents Robert Downey Jr, Angelica Huston, P!nk, Robby Kreiger of The Doors, Matthew Modine, Andy Summers of The Police and Emmy-nominated actress Linda Cardinelli.
The sign lighting is Saturday, December 5, from 6:30 pm to 7:30 pm Sign lighting at 7:15 pm.
The Venice Sign is a federally registered trademark of the Venice Chamber of Commerce and Venice's most iconic symbol, attracts thousands of tourists to Venice.
In 2007, the Venice Sign Restoration Project recreated and installed the
contemporary version of this historic sign. Since that time, the Venice Chamber has been responsible for maintaining the sign and for protecting its trademark. Today this lasting legacy is restored across Windward Avenue as a tribute to
the celebrated Venice of years past and a modern day gateway to the world famous Venice Beach. Continuing year-round, the Venice Chamber of Commerce, through programs and events, raises funds to support the maintenance of the Venice Sign. Those interested in adopting a bulb or donating can go to www.venicesign.org.